The
Minnesota Museum of the Mississippi
presents the
---

Great American Root Beer Showdown

---
Round Eleven
On a hot and sunny Sunday, June 30, 2002, seven taste-testers assembled again for the eleventh round of root beer testing.
There are still new flavors in the root beer cabinet! Six new brands and one repeat were chilling in the refrigerator. Since it was a hot day, it seemed a good opportunity to open two of the largest bottles we had. Briar's Premium, sold in an enormous 1 liter glass bottle, and the 22 oz. Sparky's, which was generously sent by Kevin Knox of Knox Brewing just a few days before the test.
Other samples included: Cheers, a "novelty" root beer named after the TV show, picked up at a gift shop in Boston. Clover Classic, a Chicago brand that I'd never seen for sale in Chicago. A call to the company headquarters tipped us off that it was available at one barbecue restaurant in the city. Luckily, Woody's Barbecue is right in our neighborhood, so it was pretty easy to pick up a bottle. Milligan's Island came from the crate from popsoda.com, and Roundhouse came from the Walter Payton brewpub in Aurora, Illinois, where we stopped by on the way home from a camping trip out of town. And to complete the roster, we had a rare sample of Dad's in a glass bottle, also from the popsoda crate.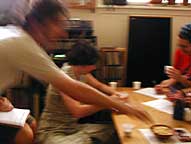 The Root Beers Tasted:
The Test
The sun was hot outdoors, but the researchers cooled their heels in our underground laboratory, waiting for the last group of taste-testers to arrive. Their thirst increased as the afternoon shadows grew longer. At last all the researchers were seated and ready. Would these root beers live up to their high expectations?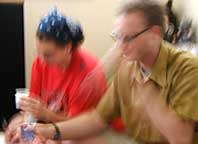 Round Eleven Results
Despite the hot weather and their thirst, many of the researchers were hesitant about giving any of the brands in Round Eleven high scores. Perhaps the delayed beginning of the test inflated the expected refreshment to a level that could not be sustained when the actual samples were brought out. Many of the reviewers later expressed disappointment that none of the brands had been outstandingly great. And, as has happened in previous tests, the testers are sometimes reluctant to score the first and second samples as high as their initial feelings since they do not have precedents for immediate comparison. No doubt this is counteracted by the tendency of a thirsty taster to score those first and second samples too high simply because it satisfies the parched palate.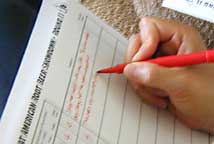 Total Scores
Average scores across all categories:
Dad's - 3.33
Sparky's - 3.29
Cheers - 3.17
Milligan's Island - 2.86
Briar's - 2.85
Clover Classic - 2.39
Roundhouse - 2.31
Overall Taste
Average scores in the category of "Overall Taste":
Dad's - 3.64
Cheers - 3.36
Sparky's - 3.14
Milligan's Island - 2.86
Briar's - 2.50
Clover Classic - 2.31
Roundhouse - 2.14
Analysis
As you can see, none of the brands in Round Eleven scored extremely high or low. They are clustered both somewhat above and below average, as might be expected. But these average scores often lead to disappointment on the part of the reviewers since it does not make for a very dramatic taste test. The most dramatic result of this test was the sudden leap in the overall placement of Dad's, showing a great improvement over its score way back in Round One of the test. Perhaps this is because we were finally able to obtain a sample in a glass bottle, or perhaps it is because the taste-testers have become more experienced since that first test.

Our Rigorous Taste Testing
Try your own Root Beer Showdown at Home!
Root Beer Resources on the Web
---