The
Minnesota Museum of the Mississippi
presents the
---

Great American Root Beer Showdown

---
Try This At Home
Has all this talk about root beer made you thirsty? Want to try a taste test of your own? Its easy! All you need are a half-dozen intriguing root beers in the fridge, a stack of disposable cups, and a few enthusiastic friends to take part. And now we've made it even easier by providing you with some of the written materials we use in our Great American Root Beer Showdown testing. These are the actual documents used in real taste-test situations which have been honed and refined by our extensive trial and error procedures.
Dowload the Home Testing Kit
The Home Testing Kit includes PDF files of a sample score sheet, a 2-page bulletin of fun facts, and an interactive scoring computer. The score sheet features the five rating categories we use in judging each root beer, but you can easily type in your own rating categories instead. Print out a copy of the score sheet for each participant in your test, and be sure to print a few extra for last-minute guests who may want to join as well. The fun facts are reprints of information gathered from various websites and are intended primarily as informative topics for your taste-testers to review while waiting for the test samples to be prepared in the kitchen, as well as provide a souvenir of the experience for your guests.
And after you have finished your taste test, enter the data collected into the Interactive Root Beer Flavor Tabulator. This is a PDF file which works like a spreadsheet to calculate all your scores to determine the winner across all categories and in the Overall Taste category, just like we've done with the results of our test here in our lab. The Flavor Tabulator makes it easy for you to find out the results of your own test at home. No need to have spreadsheet software or much understanding of math, all you'll need to do is download the file and enter your data. The tabulator will do the rest of the figuring for you. Accomodates data for up to 9 taste testers at one time.
Once you've determined the winner of your taste test, send us a writeup of your experiment and the winners and we'll post the results on this website! Send your taste-test reports to Root Beer Showdown Home Test. You'll be able to compare notes and swap data with root beer lovers across the country. Invite your friends over to give it a try today!
(You can dowload the free Adobe Acrobat Reader to view PDF files at www.adobe.com.)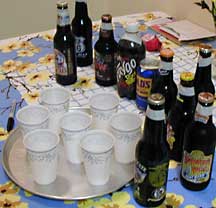 Where can I get all that root beer?
Reviews of all Root Beers Tested
Root Beer Resources on the Web
---