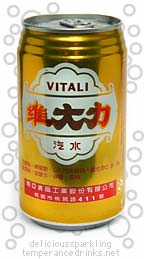 12 oz. can
2.83 g sugar / oz.
Review
A golden yellow beverage. Very effervescent, throwing a fine mist of dusty sugar immediately above the glass.
The taste is pretty vague. No strong flavors here. A slight tea taste? Or maybe I'm imagining that. Its just kind of salty, not even very sweet.
There's nothing wrong with this drink, but not much distinctive to get excited about either. It neither offends nor befriends.
fizz 4

refreshment 2

score 2

sweetness 2

flavor 1
Ingredients
Vitamin B1, B2, C, carbonated water, sugar, sodium, L-aspartate, flavor, citric acid.
Made by
Nan Ya Food Industrial Corp.
411 Tao-Yien Road
Taoyuan
Taiwan